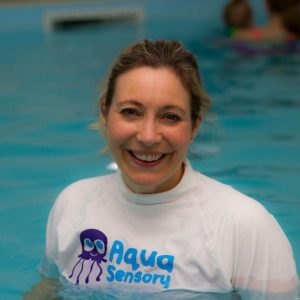 Acquarella organizes a series of seminars with foreign teachers on the different approaches to children's aquatic life in the different Countries of the world. This Saturday April 25th 2020 h 3 pm (Italian time) we will host Jo Wilson who, from England, will tell us about the organization of water activities for children in this Country and, above all, the philosophy of the Swim Works swimming centers in Warwickshire, which she manages together with her husband Christian. Her courses are characterized by a marked attention to the care of sensory stimulation in early childhood, seeing the pool from the child's eye, and to promote healthy relationships and rich learning and development starting from these principles. Jo gave this approach the name of Aqua Sensory.
Jo Wilson is an international tutor for the STA (Swimming Teachers Association) in the UK
She has presented at conferences in the UK as well as in Austria and Australia
It will be held in English with consecutive translation into Italian.
It will be two hours of very dynamic Webinars during which you can interact with Jo Wilson.
Furthermore, as an added value to our webinars, you can share the seminar with participants from different countries of the world who, through the interventions, will bring their experience in the sector. We are waiting for you !!!
Webinar "Water Activities for babies, toddlers and children in England" with Jo Wilson" con Jo Wilson
Sabato 25 aprile ora 15
Place: Zoom Platform with registration
Host: Hugo Lavalle
Cost of the webinar : €11
Payment: Carta or PayPal from the sign up page
Contacts   acquarella@libero.it
Iscriviti