Noemi Suriol Puigvert. CONTINUOUS INNOVATION FOR EDUCATION FROM THE MOVEMENT.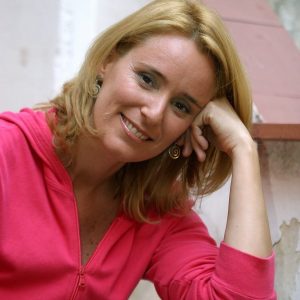 Born in Barcelona in 1966, she is the Director of the "Lenoarmi" center located in Barcelona, which for more than 40 years has led the educational water activity for infants, among many other innovative activities for the development of the baby.
Noemí Suriol studied Physiotherapy, with specialization in Child Neuro-Pediatrics at the University of Trier (Germany) and worked this specialty in several German hospitals and centers. Later she returned to Barcelona to direct the "Lenoarmi" center with her programs aimed at enriching the psychomotor development of children and adults. She works with these programs in the middle of the water and in the middle of the land.
"Lenoarmi" is a School of Comprehensive Physical Education aimed at the whole family, which since 1971 has carried out educational and health prevention work for the development of people in their life cycle, which goes from conception to old age.
Lenoarmi was created by Noemi Suriol's mother, Maria Rosa Puigvert, who was the founder and her concept reminds us that we have a nature, a biorhythm that we have to learn to know, respect and act on.
Noemí Suriol, collected all this knowledge and upon returning from her studies in Germany, she puts herself at the forefront of Lenoarmi developing her own methodology and she is pioneer in Spain throughout the world of water and on land activities with a pedagogy with which currently she is already designing its internationalization to face the multiple requests to extend this method in different Countries. In fact, there are open centers with the "Lenoarmi" methodology in Germany and Brazil. For this prestige,  she also receives training requests in Switzerland, Holland, Brazil and China.
In these more than 40 years of activity in Barcelona, Lenoarmi has developed and implemented its own educational and psychomotricity system aimed especially at children and mothers, with specialization in newborns. Her work in the field of  physiotherapy in neuropediatrics adapted to exercise in the aquatic environment has earned her different recognitions, especially from more than 10,000 students who have learned to develop and know how to swim in the aquatic environment through her techniques, on the other side recognized by the best specialists in the city. More than 1,000 students attend monthly  the family facilities in  Dr Roux Street in Barcelona, where since 1972 sessions of the School for Parents have been held.
Noemí Suriol wrote the book "Bebés al agua" published in 2000 by the Editorial Tibidabo Ediciones, which has made several editions on paper. It was republished on paper and in @ e-book in Spanish and Catalan by Editorial Luciernaga (Grupo Planeta) in 2013 for the celebration of the "World Swimming Championships BCN 2013" in Barcelona, an event in which Lenoarmi collaborated in an active way.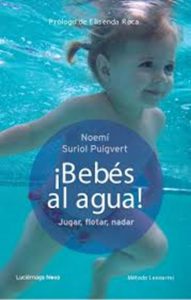 Lenoarmi's vocation is the constant innovation of the method with its own pedagogy and endorsed by renowned pediatric doctors in the city and well-known elite athletes who bring their children captivated by the results of the method.
She is also a regular collaborator in postgraduate studies at different faculties: INEFC, Ramon Llull University, Autonomous University of Barcelona, International University of Catalonia, Gimbernat Schools, …
Currently, Noemi Suriol has many requests for advice from around the world asking for his presence to give talks and explain the method, and the technical requirements of the facilities, specifically designed for babies. We highlight the participation for public TV in South Korea, and from training centers in China. Also from Mexico, Chile and Colombia receives requests for advice.